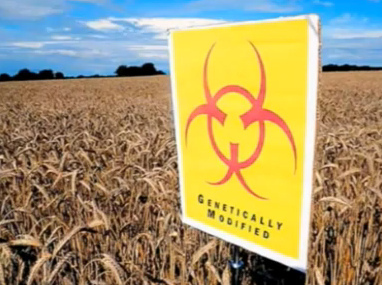 Monsanto is again in bed with the Biotech industry at the expense of public health and our environment. Genetically Engineered Round Up Ready Alfafa seeds have been deregulated yet again and are being pushed on farmers to plant, not just in the US, but globally.
Who stands to gain: Monsanto, the Biotech Industry, Monsanto's friends in Congress and the Gov, Obama included. And the usual suspects: the advertising, marketing and media companies being paid big bucks to market this unnatural seed and keep the truth silent.
Who stands to lose:  farmers, and every human being on earth, cows, and any animal that drinks or eats, let's just say… eventually the entire eco-system will lose.
This is alarming on several levels, first the active ingredient in Monsanto's GE Round Up Ready Alfalfa has not been tested on human beings properly for safety by Monsanto. Scientists are saying much more toxic herbicides will  now be needed to be sprayed across farmlands all over the US to keep the weeds off this new, resistant nature deviating alfalfa.  (Until now only 10% of alfalfa crops are sprayed with herbicides).  What some are saying is the cumulative effect between the toxic herbicides and the genetically engineered alfalfa fall out will result in an increase in miscarriages, cancers, and various illnesses and disease.
This exceptionally resistant breed of alfalfa will overtake all other breeds of non-GMO alfalfa, as the bees will carry the pollen from one farm to the next and it will spread like wildfire, contaminating every crop of alfalfa across our great land.
The chemicals and tainted alfalfa will find their way into livestock feed across America, which will then show up in the dairy, milk, cheese, yogurt and ice cream. This will crush part of the organic farming industry.  Alfalfa is a key mainstay livestock feed used in the dairy industry overall. Oh, and it's not just the dairy industry that will be effected, the toxicity and tainted product will also lodge in the fat cells of livestock which will show up in the meat supply.
Any seeds which are exported (the US exports about 50% of its alfalfa supply) if accepted by other countries will contaminate and kill off their own diverse alfalfa seed supply.  Some foreign countries have put a ban on accepting any GMO or GE seeds from the US. (Monsanto and Dupont own all of the seeds in the US, btw, Our food supply is patented.). India allowed GMO cotton seeds from the US into it's agriculture a few years ago. They were advertised as "magic seeds' to poor farmers who bet their life savings on these expensive seeds. The result was the opposite, crops failed miserably and the seeds were found to have "terminator technology" implanted in them so they would not generate more than one crop.  Unlike natural seeds.  These  farmers were forced to buy more and more expensive seeds and were saddled with failed crops and so much debt that a wave of farmers committed suicide by drinking the very toxic pesticides they were promised they'd never have to use on their crops.  See the attached link.
Why is this happening?  Greed and Control. And a really effective advertising and marketing campaign.
Monsanto dumps tons of money into advertising and marketing in the agricultural media here and abroad. They own the media when it comes to ag and food in the US.  You will not see any published article in any ag mag stating the truth about "agriculture" in the states. While some farmers are privy to the information from doing their own investigating or from experience, others are buying into the Monsanto "promise" (ie. bait and switch/manipulation/extortion). Even knowing about Monsanto doesn't make a difference as independent thinking and acting farmers have been shut down over many years now by Monsanto and big food companies. "Food, Inc." and "King Corn" are good films to see if you haven't already.  "The Ominvore's Dilemma" by Michael Pollan is another good book on the topic of pastoral farming vs. factory farming.
The American people still have very little information and most have no idea of the impact this will all have on public health, or the health of their own families. What's becoming evident is that the only way to protect yourself and your family from the harmful side effects of this global assault on our food sovereignty is to be an Agri-Luddite.  Buy local, know your farm – what they grow, how they grow it, what they feed their animals and how they raise them, and if you can't find all that out, refrain from eating dairy and meat. This is radical and certainly not an answer for 95% of Americans.
So what can we do as branding, marketing and advertising companies?  First, we can educate ourselves. And then we can choose to take on projects that are not harming the environment, animals or people.  We can get the word out to our clients, colleagues, vendors and employees. We can raise awareness within our own companies and communities of the issues and have brainstorming sessions internally and with our community about how as a responsible branding, advertising or marketing company we can make a difference.  We can get involved with and/or support The Organic Trade Association, www.ota.com,  or any .org which is actively fighting the good fight in DC for us all.
Monsanto ran a successful campaign to get their agenda passed. What's needed is a a genetically engineered public awareness campaign and media blitz to protect our food sovereignty.  It's time we get together and mix our creative DNA and join forces to take this on. Production and media budget will be needed.  Any partners or parties interested in joining a brainstorming petri dish with TBN or contributing toward a budget for a high impact production and media buy, the likes of which will be resistant to all strains of multi-national interference, please contact us directly.  At this point, it will take nothing short of unnatural creativity and courage to keep our food safe.