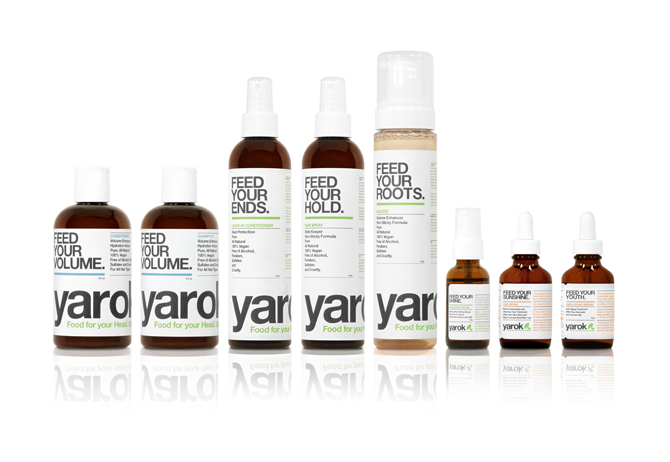 The Challenge:
Re-brand a fledgling hair care line with flat sales and a shoestring budget, and put them on the map in the all natural and organic beauty category. Re-name the entire product line and re-package it. Literally, and sustainably.
The Truth:
The truth about Yarok?
Yarok means "Green" in Hebrew and it lives up to its  name as each product is made from the purest, most sustainably harvested botanicals and essential oils.
Yarok's product story and sustainable commitment was not coming through in their previous branding, and sales volume was low.
The truth about consumers?
People are using their heads and their hearts when they shop for beauty products. It's not just about the packaging anymore, it's about the story, the commitment, the transparency, the ingredients.  Women in this growing target audience of conscious shoppers want products that nourish their spirit as well as their hair.  And they want to feel that when they buy a beauty product for themselves they are not taking away from the beauty of our planet, but contributing to it.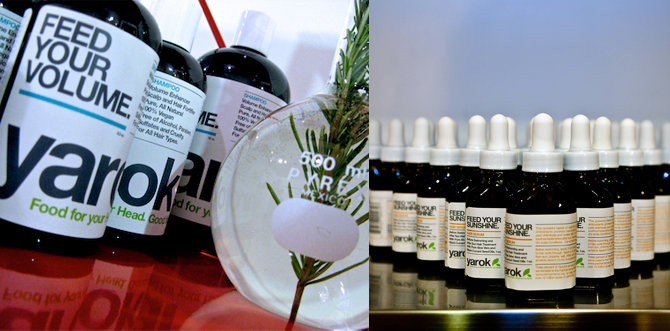 The truth about the category?
There are quite a few organic and all natural shampoos out there and new ones being introduced regularly by small hair care companies as well as by the big ones.
Many "natural" and even "organic" hair care products say they are "sulfate free" or "paraben free" but they contain other chemicals that are buried in the ingredients list.
To compete in the  beauty category as well as in the "green" category, your product benefit needs to be front and center, (nothing like putting it in the name of each product) and you need to do and say things differently than everyone else but in a way that's more arresting visually and more meaningful than the next brand.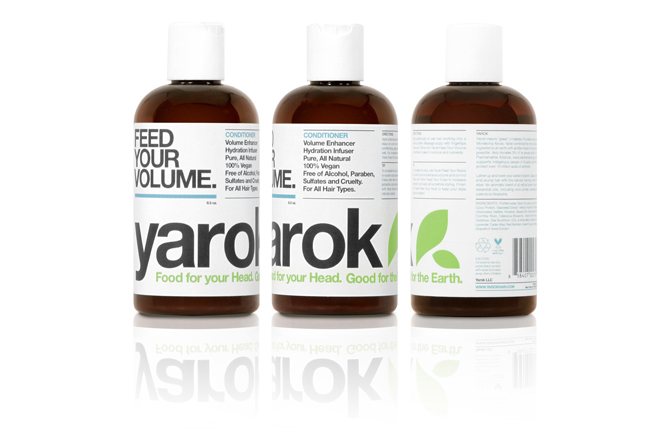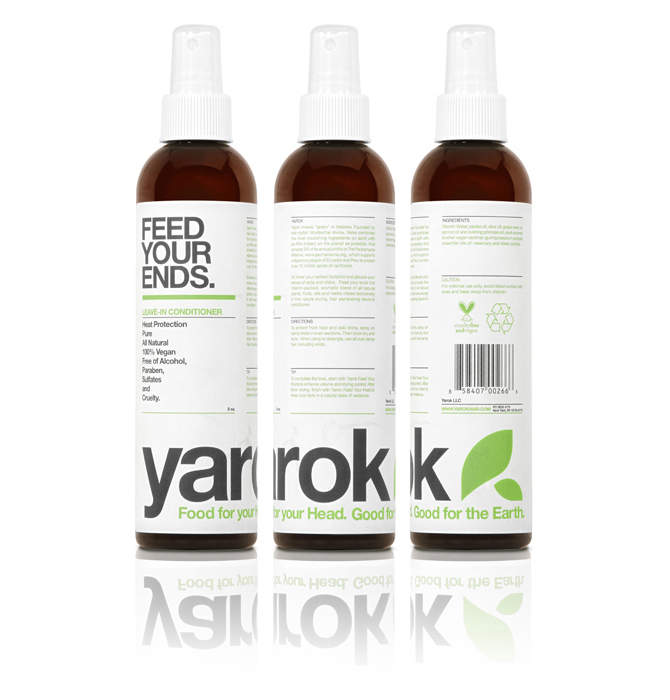 The Beauty:
Convention isn't our forte. And thankfully, it's not our clients' either. We stepped out holding hands together with this risky, wrap-around logo and label design to defy typical beauty packaging rules with a clean, post modern look that invites the shopper to take the product off the shelf, and turn it around to find out more about the Yarok story.
We sourced and managed the print production of the packaging in partnership with Natural Source Printing, a sustainable printer that offers FiberStone®  labels. These waterproof labels are made from limestone (not paper), one of the most abundant natural resources  on earth.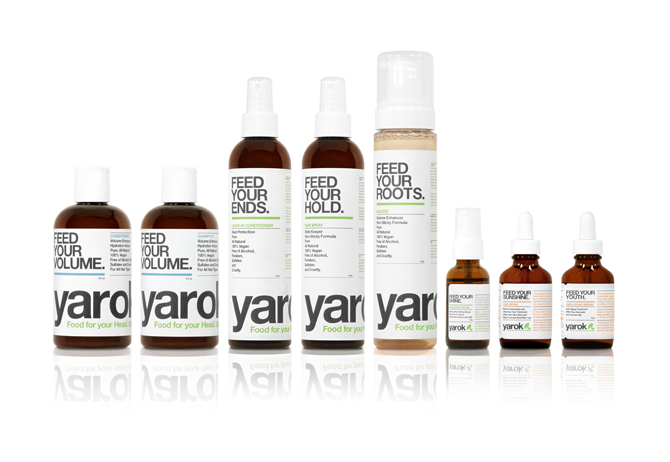 We photographed the whole product line on a shoestring budget (thank you Larry, Eric and Joey of GrandArmy) for use in on-line stores, catalogues, magazines and for Yarok's new branded web site.
This was a 360 effort which included providing some initial top-line creative direction on the web site design. We directed Yarok to keep the imagery focused on healthy hair and natural ingredients.  The clean, post modern graphic tone we set in Yarok's brand identity package was integrated beautifully by a talented web designer, Avigdor Susana, www.avigdor@shopy.net.  We are very happy with the outcome and that much of the copy we'd written was included on the site.  www.yarokhair.com.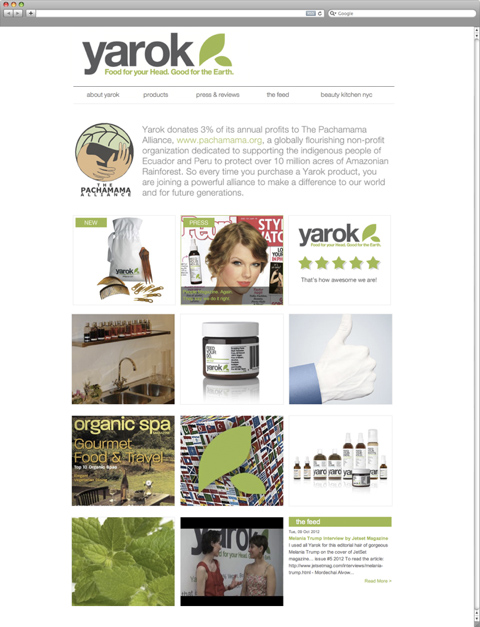 We consulted with Yarok on the creation of its sustainable hair salon and showroom in Chelsea which opened in December of 2010, and our salon name suggestion was taken: Yarok Beauty Kitchen. The new salon name ties in well to the product line being vegan and super nutritious. As well, it supports the the tag line we wrote which is on every package: Yarok. Food for your head. Good for the Earth.  Which  further ties into each of the benefit driven product names we also created:  Feed Your Roots, Feed Your Ends, Feed Your Volume, Feed Your Hold, Feed Your Shine, Feed Your Youth, etc.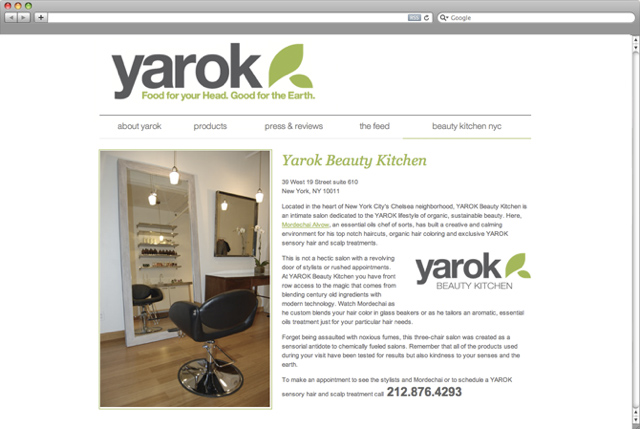 Realizing a brand is only as sustainable as the commitment and actions behind it, at TBN we ask a lot of questions to get to the gold and to help brands articulate their vision to make a difference globally.  One of the questions we asked was if Yarok could take on a bigger problem than an unhealthy, dry scalp or brittle, limp hair, what would it be?   Which lead us to another question. Why can't Yarok contribute to the beauty of the planet  while it makes people look and feel fabulous? The products are made from plants, so why not give back to plants. Truth Beauty Now recommended Yarok donate a portion of its annual profits to support the Pachamama Alliance, an amazing non-profit that helps empower the indigenous people of Ecuador and Peru to help protect one of the earth's most valuable resources, the Amazon Rain Forest.

The Results:
Yarok has experienced growth of 200% in sales both from its own shopping cart and from retailers between 2010 – 2012. Yarok's Founder confirmed that only after Truth Beauty Now re-branded the line, did Yarok begin to get on-line orders on www.yarokhair.com as well as requests for orders from retailers, web stores, spas and salons across the US and worldwide.   Yarok is now available at 40 retailers in the US and 17 stores worldwide, including Japan, Australia, China, Singapore, Amsterdam and now in each room of the chic Oslo, Norway hotel, "The Thief". Sales volume is expected to move steadily north and this is also in large part due to the amazing Yarok Team, including Janet Mick of IT Management Global, www.Itpublicrelations.com, one of TBN's lovely strategic allies.
Also, now 3% of Yarok's annual profits are contributed to he Pachamama Alliance, www.pachamama.org, and consumers can read about it on every Yarok product, brochure and on the Yarok website.