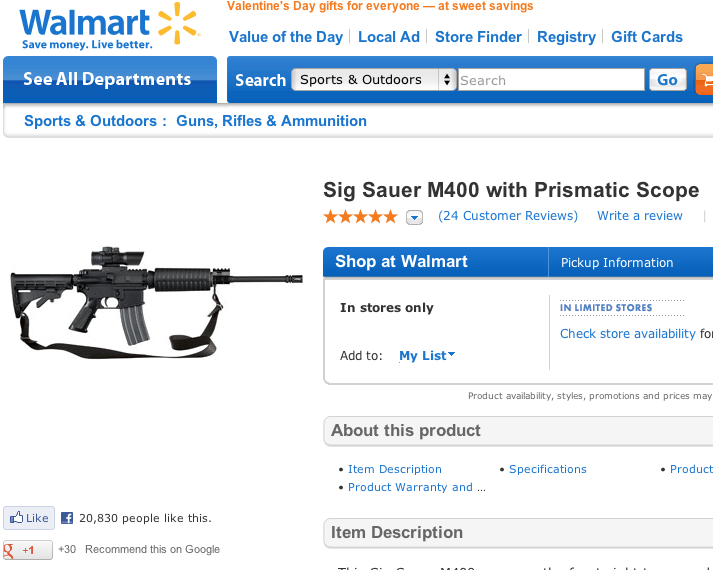 I heard a woman being interviewed on the news one night shortly after the Newtown shooting. She raised an interesting question.  Why is it that she had to go through federal and state background checks to adopt her children, but a criminal can buy a gun in America without a background check?
Later that week I saw articles that Walmart, the world's largest retailer, announced it will NOT be pulling the type of weapon used in the Newtown school massacre off its shelves. Now there's some effective branding, if your target audience is Ted Nugent. Btw, I just now pulled a screen grab of Walmart's site, the one you see above.
I brought my adopted daughter Betelhem to New York from Ethiopia in October of 2011. The process took about 2.5 years. And yes, much of this time I spent applying and waiting for federal and state background checks to clear, while I had to procure several other types of "clearances". I visited the USCIS to get fingerprinted, the NYC Police Department to get a letter of good standing, had two visits from a social worker to get a home study, got a notarized letter from my then employer verifying my salary, from my Dr. verifying my medical condition, from my accountant verifying my financial standing, from the Department of Health in Galveston, Texas verifying my birth certificate, 3 character reference letters, a list of every address I'd ever lived at dating back 28 years. All this and more went into a "dossier". Once completed, it was taken by special courier in DC, and by "special" I mean I paid a man in DC to hand deliver my dossier to the desk of the Secretary of State for her signature and get the signed original dossier back to me. Yes, Hillary Rodham Clinton actually sat down and signed the cover of my dossier in front of a notary, before I shipped it off to the adoption agency which then shipped it off to the government of Ethiopia to consider whether I was fit to parent one of their 6 million orphans. This all, of course,  preceded my two trips to Ethiopia to meet my beautiful daughter for the first time and to appear in court there. Twice.
So ALL this is required simply to LOVE one child, yet NO mandatory background check is required to buy any number of guns or ammo in the U.S.  How difficult we make it to give an orphan a life, yet how easy we make it for a criminal or someone mentally ill to take a child's life away. Or multiple children's lives away, in a matter of seconds.
It's mind boggling how many orphans there are worldwide compared to how few are adopted annually. And how many guns there are in the world compared to the percentage of those that are owned by private citizens of our great country.
It is estimated there are between 143 million and 210 million orphans worldwide (a recent UNICEF report.) Yet, approximately 250,000 children are adopted annually. http://www.orphanhopeintl.org/facts-statistics/
Of the world's 875 million firearms, the U.S. buys about 275 million. And roughly 75% of those go to private citizens.  In the U.S. there are about 90 handguns per 100 people. That's three times what you find in Germany, France or Sweden. And 2.5 times what you find in Iraq. http://www.fastcodesign.com/1662850/infographic-of-the-day-does-the-us-really-have-that-many-guns"
Bottom line, the government makes potential adoptive parents jump through hoops for years before they allow them to give an orphan a home, a family, an education, a support system and opportunities they would never have otherwise, yet if you're a potential child killer and you want to purchase a semi-automatic assault style weapon to spray a classroom, it's as easy as strolling into your neighborhood Walmart and buying a can of peas.
A few things you can do:
• Sign open letters to Congress, vote in the primaries and support any politician brave enough to take a stand on gun control.
• Join forces with organizations like http://www.momsrising.org/
• Start or join a youth commission like this one in your town to engage youth and get their perspective, http://www.phila.gov/youthcommission/
• Don't shop at Walmart or any retailer that sells military style assault weapons.
• Help my friend Misha meet his goal of raising $1,000,000 for the Worldwide Orphans Foundation at http://www.mishalyuve.com/music-areweready-game
• Listen to your child, talk to them about this issue (if it's age appropriate), and watch what they watch on TV, at movies and on the internet.
• Contact us with ideas and resources to help shift public policy.
• Share this.